CERTIFIED FINANCIAL PLANNER ™ professional
Financial Advisor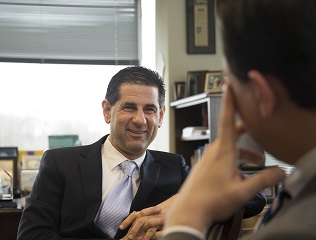 "It is my mission to always be in the business of providing a greater focus and better financial outcomes for clients in a warm and caring environment."
I am a financial professional with over 30 years in the industry, providing guidance to entrepreneurs, businesses and families. The foundation of my practice is based upon my personal mantra of "do the right thing." By following this approach, I build long-term relationships with my clients that has given me the opportunity to follow them through several stages of their lives. The careful analysis and integrity that I bring to my practice ensures that the decisions made match the needs and goals of each individual client.
At Jacob Solomon & Associates, we care about our clients lives and their financial outcomes. Our team is accessible and involved as clients navigate through life changes. We closely listen to their goals and analyze their needs to find solutions that are best suited for each circumstance. Through our careful analysis and financial planning, we build trusting relationships with our clients.
We advise our clients in the areas of Wealth Accumulation and Risk Management, Investment Strategies, Tax Reduction Strategies, Retirement Planning, Estate Conservation and more.
Jacob Solomon & Associates is not a subsidiary or affiliate of MML Investors Services, LLC, or its affiliated companies. Any discussion of taxes is for general informational purposes only, does not purport to complete or cover every situation, and should not be construed as legal, tax or accounting advise. Clients should confer with their qualified legal, tax and accounting advisors as appropriate.